Our Story
Evolution's story began in 2010. We are a family owned enterprise with an early stage philosophy to develop efficiencies for Upstream Oil and Gas developers in Canada by introducing new technologies and pursuing an innovative, forward thinking growth path. Since then, Evolution has marked many milestone achievements and is poised today as an industry leader in the electrification movement to help Canada achieve its' Net Zero 2050 goals.
Our passion and commitment to align our philosophies and product lines with the initiatives of our customers has never waivered. Evolution is proud to offer services which assist customers in reaching their ESG goals and reduce their carbon footprint in meaningful, measurable ways.
Our focus now is to continue following environmental science, emerging technologies and legislation, and introducing new technologies and equipment offerings to our customers while demonstrating a resourceful, mindful approach to project and power planning. Evolution is growing in scope and capacity, with a geographic reach covering most of Alberta and British Columbia, and new project opportunities developing each day. Our portable microgrids have expanded from light demand power in the 100kW range to a diverse product line capable of meeting multi megawatt power demands, crossing industry to include any customers examining their approach to remote power and electrical distribution or looking for ways to reduce their carbon footprints. We are working hard to drive forward diesel displacement and advocate the adoption of natural gas fuel powered systems.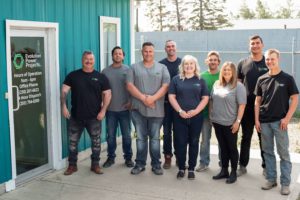 It is easy to be passionate when tomorrow's power demand will be met with today's ambition.